Description
Titan Peeler TTPLR Slicer & Peeler as seen on tv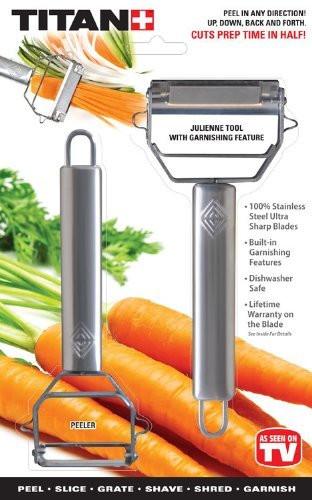 * Slices-Grooves
* Shreds-Garnishes
* Shaves
* Peels
* Grates

This revolutionary peeler has dual-action, double-sided stainless steel blades that cut going up and down-slashing peeling and slicing times in half! With the Titan™, you can effortlessly peel fruit, slice veggies, grate hard and soft cheeses, shave chocolate and even create beautiful garnishing in seconds! 

Set includes: 7" peeler, 71/4" julienne tool, slicing board with garnishing tool and garnishing guide. Dishwasher safe..
Please Click Below to Purchase Special Sales of the Day 
!! Click Here Everyday Special Sale  !!
Payment & Security
Your payment information is processed securely. We do not store credit card details nor have access to your credit card information.