Description
Skyrest Inflatable Travel Neck Pillow 
When traveling for an extended period of time, Skyrest may be a welcome addition. The addition of a travel pillow to my carry-on has vastly enhanced my comfort on long aircraft travels and car trips. If you're looking for a new travel pillow, go no further than the Skyrest!
𝐁𝐄𝐒𝐓 𝐂𝐎𝐌𝐅𝐎𝐑𝐓𝐀𝐁𝐋𝐄 𝐓𝐑𝐀𝐕𝐄𝐋 𝐏𝐈𝐋𝐋𝐎𝐖: The inflatable neck pillow is a great addition to your travel kit and allows you to sleep well everywhere. This item is a unisex pillow and may be used by anybody, regardless of age. It is also incredibly simple to operate. 
𝐏𝐑𝐄𝐌𝐈𝐔𝐌 𝐐𝐔𝐀𝐋𝐈𝐓𝐘:  This is the most comfortable pillow for our neck and shoulders and allows us to sleep well. Its patented design uses your head's natural tendency to lean forward to assist you to sleep, rather than waking you up. It has the potential to make the trip more enjoyable.
𝐏𝐄𝐑𝐅𝐄𝐂𝐓 𝐒𝐔𝐏𝐏𝐎𝐑𝐓: SkyRest may be used in ANY seat, and in many other scenarios and positions, to assist alleviate your discomfort while flying, whereas other travel pillows can only be used to support your neck if you can recline, and if your seat back is high enough.
𝐖𝐈𝐃𝐄 𝐔𝐒𝐄: This neck pillow is popular among travelers from all over the world. Also, this is one of the lightest options for a travel pillow. Because you need to be able to transport it. 
𝗗𝗨𝗥𝗔𝗕𝗟𝗘 𝗔𝗡𝗗 𝗩𝗘𝗥𝗦𝗔𝗧𝗜𝗟𝗘: This neck pillow is made of a stretchy material that makes it easy to use. It's also a high-quality item that will last a long time. This ensures its resilience under various conditions.
𝐒𝐈𝐙𝐄 𝐀𝐍𝐃 𝐃𝐈𝐌𝐄𝐍𝐒𝐈𝐎𝐍: This air pillow for traveling is inflated, and the dimensions are (14 x 12 x 11) inches and 17 inches high at the furthest point from the user. It weighs 20 ounces and is quite portable. For people who are 4'10" to 6'6", a one-size-fits-all.
𝗧𝗿𝗮𝘃𝗲𝗹 𝗡𝗲𝗰𝗸 𝗣𝗶𝗹𝗹𝗼𝘄 𝗳𝗲𝗮𝘁𝘂𝗿𝗲𝘀:
Lightweight and easily portable

Easily washable in any situation

It's easy to pack and carry anywhere

One-size is comfortable for folks from 4'10" to 6'6"

The one-way inflation valve prevents air loss between puffs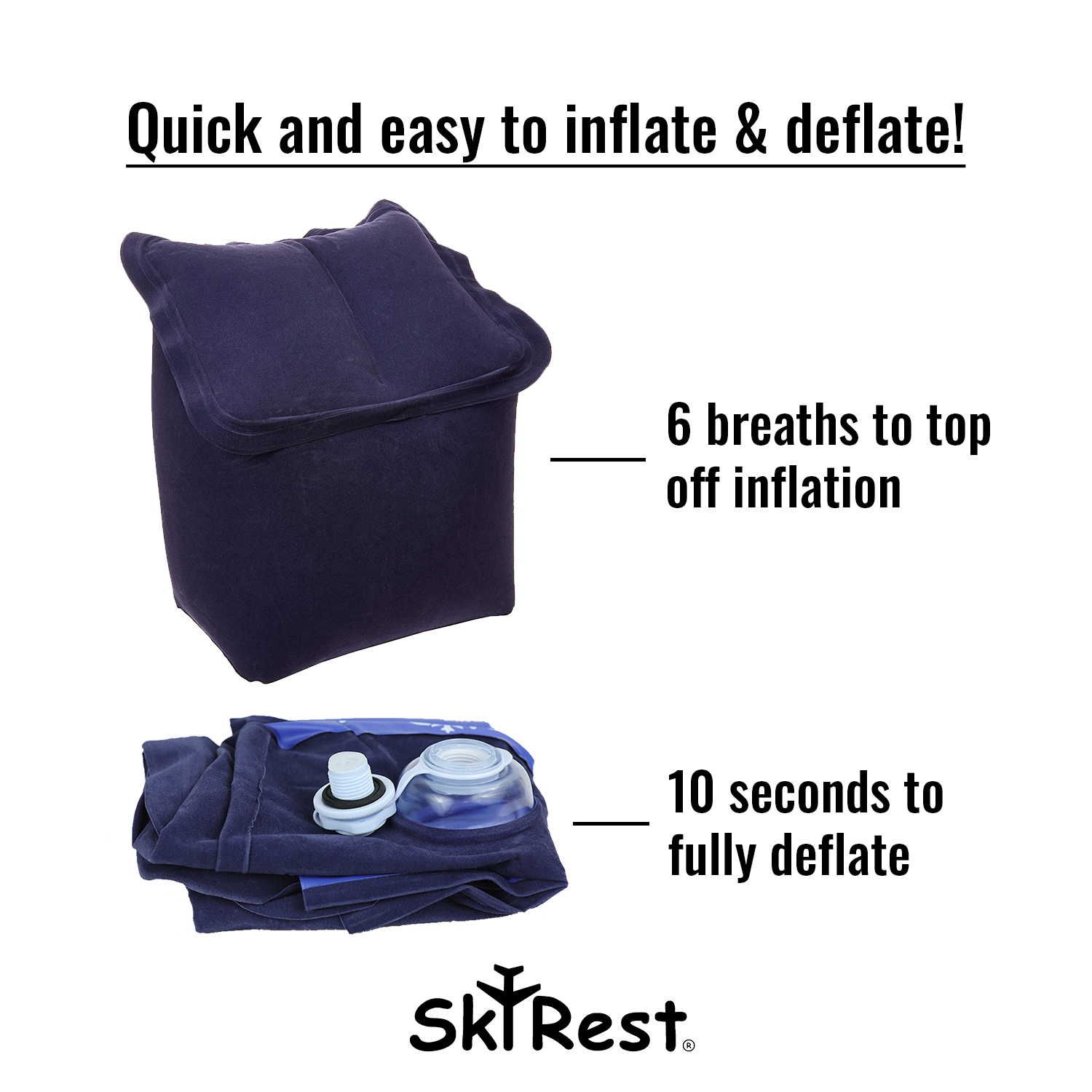 Payment & Security
Payment methods
Your payment information is processed securely. We do not store credit card details nor have access to your credit card information.
---
Security