Miracle Blade World Class Series 18 Piece Set Including Knife Block-BRAND NEW
Miracle Blade World Class Series 18 Piece Set Including Knife Block-BRAND NEW
Never Dull - Never need sharpening Provide Precision Control - For quick chopping, slicing, cutting and dicing
The instructions specifically say to HAND WASH to maintain the beauty of the knives. There are also dishwasher instructions. Dishwasher Safe - Quick and painless cleanup
Scrubbing the knives with foil (first wetting the foil) will easily remove any rust if washed improperly and not dried as per the instructions.
Comfortable Composite Handles - Easy grip stops slipping and sliding. Attractive Design - Enhances any kitchen decor
The knives come with instructions on handling and cutting. This Product comes with Manufacturer's Warranty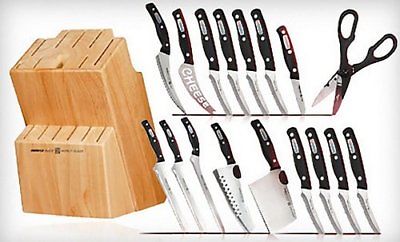 Miracle Blade World Class Series 18 Piece Set consist of 2 slicers, 1 carving knife, 1 Rock and Chef, 1 Chop and scoop, 1 filet knife, 1 cheese knife, 4 steak knives, 1 pairing knife, 1 pair of kitchen shears, A block and 4 additional steak knives packaged separately..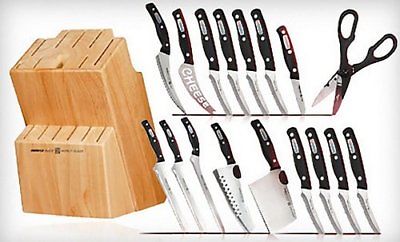 Please Click Below to Purchase Special Sales of the Day 
!! Click Here Everyday Special Sale  !!
---
We Also Recommend
---
QUESTIONS & ANSWERS
Have a Question?
Be the first to ask a question about this.
Ask a Question
WhatsApp
WhatsApp