Description
Flies Be Gone - Non-Toxic Fly Trap - 5 pack
With its innovative design, this fly trap is specifically created to attract and capture flies, making it an effective and environmentally friendly option for fly control. Unlike traditional fly traps, Flies Be Gone does not use harmful chemicals or pesticides, making it safe for use around pets and children. Its easy-to-use design and low maintenance requirements make it a convenient option for any home, garden or outdoor space.
𝐏𝐄𝐑𝐅𝐄𝐂𝐓 𝐓𝐑𝐀𝐏 𝐅𝐎𝐑 𝐅𝐋𝐈𝐄𝐒: This fly trap is so simple to operate that you need not be concerned. This effective fly trap is simple to operate. Outdoor fly trap for flies and pesticide-resistant insects use tasty fly bait that attracts flies organically.
𝐔𝐍𝐈𝐐𝐔𝐄 𝐃𝐄𝐒𝐈𝐆𝐍: This outdoor fly trap has a clever, one-of-a-kind design that efficiently eliminates flies. Although this trap attracts flies, carefully positioned trap doors will prevent flies from leaving the trap after they have entered. These doors let flies to enter but prohibit their exit.
𝐂𝐎𝐍𝐕𝐄𝐍𝐈𝐄𝐍𝐓 𝐓𝐎 𝐔𝐒𝐄: This homemade fly trap is meant to be rapidly assembled. It is convenient, disposable, and needs no maintenance. Everywhere you use this fly bait, you will find success.
𝐒𝐀𝐅𝐄 & 𝐒𝐄𝐂𝐔𝐑𝐄: These flies be gone fly bait is handcrafted, non-toxic, and derived from food. This outdoor fly trap use the formula FC2 to lure flies to this bait trap. The irresistible bait prevents flies from escaping once they have entered.
𝐕𝐄𝐑𝐒𝐀𝐓𝐈𝐋𝐄 𝐔𝐒𝐄𝐒: Many different situations call for utilizing these fly trap outdoor. Kennels, stables, and animal farms may all benefit from them. These traps should be used outside at all times.
Fly Traps Features:
Easy to use
Easy to maintain
100% effectiveness
Humans and pet-friendly
Traps collect 20000 flies each
Toxins, poisons, and insecticides are banned
Note: This item is not allowed to ship outside of the USA. So please do not order shipping addresses outside of the USA address.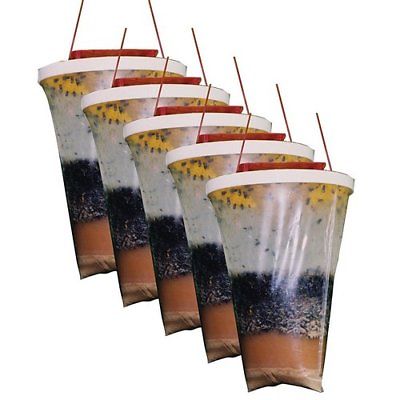 Payment & Security
Payment methods
Your payment information is processed securely. We do not store credit card details nor have access to your credit card information.
---
Security