Description
Flies Be Gone - Non-Toxic Fly Trap - 5 pack
Fly traps are a common way to get rid of flies, but there are various other options. It's a snap to get started with them. They are better than a pest control service. Flies can't resist this trap's natural fly meal as bait because it smells so good.

𝐏𝐄𝐑𝐅𝐄𝐂𝐓 𝐓𝐑𝐀𝐏 𝐅𝐎𝐑 𝐅𝐋𝐈𝐄𝐒: This fly catcher trap is so much effortless to use you don't have to worry. This fly trap is straightforward to use. For flies or pesticide-resistant flies, this outdoor fly trap uses delicious fly bait that naturally attracts flies to perform the job.

𝐔𝐍𝐈𝐐𝐔𝐄 𝐃𝐄𝐒𝐈𝐆𝐍: This fly traps for outside comes with a strategic, unique design that helps to get rid of flies quickly. As this trap attracts flies, So when the trap doors are correctly positioned, they will prevent flies from exiting the trap after they've entered. These doors enable flies to enter, but they prevent them from escaping.

𝐂𝐎𝐍𝐕𝐄𝐍𝐈𝐄𝐍𝐓 𝐓𝐎 𝐔𝐒𝐄: This flying insect trap is designed to be set up quickly. It is convenient, disposable, and requires no maintenance. Wherever you use this trap, it will be beneficial for you.

𝐒𝐀𝐅𝐄 & 𝐒𝐄𝐂𝐔𝐑𝐄: This flies be gone fly trap is handmade and food-based, nontoxic. This outdoor fly trap uses the formula FC2, where the flies are attracted to this bait trap. The tempting bait makes it impossible for the flies to get out once they've entered.

𝐕𝐄𝐑𝐒𝐀𝐓𝐈𝐋𝐄 𝐔𝐒𝐄𝐒: Many different situations call for utilizing these fly killer traps. Kennels, stables, and animal farms may all benefit from them. These traps should be used outside at all times.

Fly Traps Features:

Easy to use
Easy to maintain
100% effectiveness
Humans and pet-friendly
Traps collect 20000 flies each
Toxins, poisons, and insecticides are banned
Note: This item is not allowed to ship outside of the USA. So please do not order shipping addresses outside of the USA address.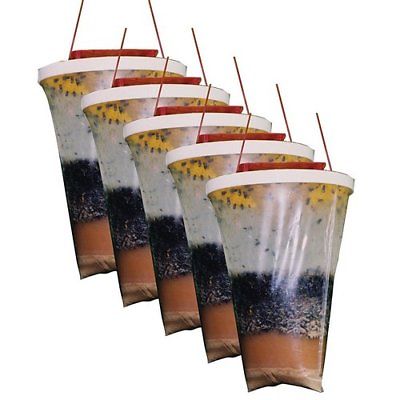 Payment & Security
Payment methods
Your payment information is processed securely. We do not store credit card details nor have access to your credit card information.
---
Security